Battle of Imbros 20.1.1918
(1097)
Turkey
Royal Navy
Raglan
†

Similar type
HMS Erebus
, Similar type
HMS Abercrombie (Roberts class)
Acheron class
Tigress, Lizard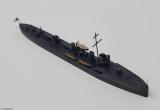 HMS Acheron (Acheron/I class)
,
HMS Acheron (Acheron/I class)
Ark Royal

HMS Ark Royal / Pegasus 1914 (Pegasus class) (1/1250)
,
HMS Ark Royal (Pegasus) 1915-18 (Pegasus class)
Lord Nelson class
Lord Nelson absent, Agamemnon nearby, but too slow to involve
HMS Lord Nelson (Lord Nelson class) (1/1250)
,
Agamemnon 1908 (Lord Nelson class)
E12
inoperative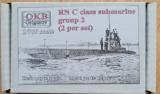 Similar style
HMS C class submarine, Group 2 (HMS C class submarine)
Manxman
seaplane carrier, arrived too late
Top
References
References

(1097)↑ Lemnos island and the three burials of the sailors of the SMS Breslau', in Zisis Fotakis (ed.), The First World War in the Mediterranean and the role of Lemnos, Athens, Herodotus, 2018, pp. 247-263 in http://www.academia.edu/36967315/Lemnos_island_and_the_three_burials_of_the_sailors_of_the_SMS_Breslau_in_Zisis_Fotakis_ed_The_First_World_War_in_the_Mediterranean_and_the_role_of_Lemnos_Athens_Herodotus_2018_pp_247_263?email_work_card=view-paper




Legend:
lime:
Excellent source, hardly any errors
green:
Very good source, only very few errors

black

or

blue

:
Quality of this source is not yet mentioned
orange:
Good source, some errors
red:
Source cmay ontain some true facts. All facts need to be checked.

Information from Wikipedia is not always listed explicitly.
A list of used references is in More topics/Literature